Subtly Spiced, Super Crunchy, Orange, Tahini And Cashew Granola (alias: The Best Granola Ever!).
I never really liked granola when I was a kid. Then I found out that the few granola options around here when I was little were really, well, tasteless.
I then traveled and tried a few other brands and that changed my mind. Although, I need to say this, I'm still really picky about granola. 
There are a few things I need in my granola (and no, I don't like it any other way): crunch + the right amount of sweetness + a punch of flavor; and, of course, nutrition. I call this, the perfect combo. Granola is one of those things that can easily be healthy and so yummy at the same time; and it should! A bowl of granola can pack so many nutrients and so much flavor, my mood improves just thinking about it.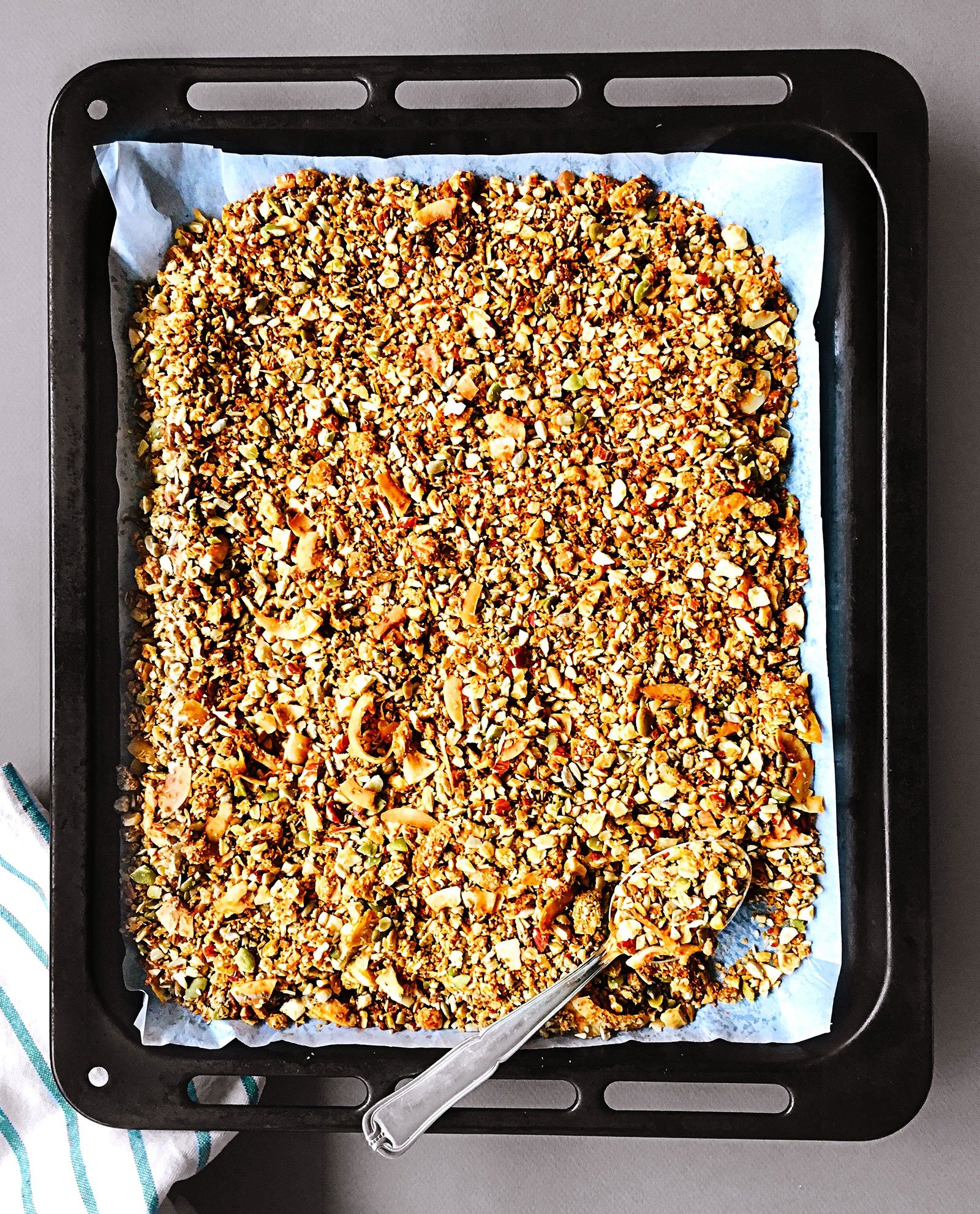 But, enough of the healthy stuff, let's talk about what really makes you want to eat something: taste. This is, by far, the most delicious granola EVER. Okay, maybe that's just my orange-tahini obsession talking; but I promise you it is truly delicious! I dare you to stop at just one tablespoon. It tastes like dessert, SO ADDICTIVE.
This is not a cheap granola recipe, but it is so worth it. It has so much more to offer than traditional 'full of oats' granolas; plus it makes plenty and it will keep for weeks. I always have home-made granola in my pantry, sometimes chocolate, sometimes cinnamon, but I always, always, have orange, tahini and cashew granola. It is, by far, my favorite; and it goes with everything! 
If you try it, let us know what you think. Tag us on Instagram @mondaydreamsblog or leave a comment below, we love hearing from you!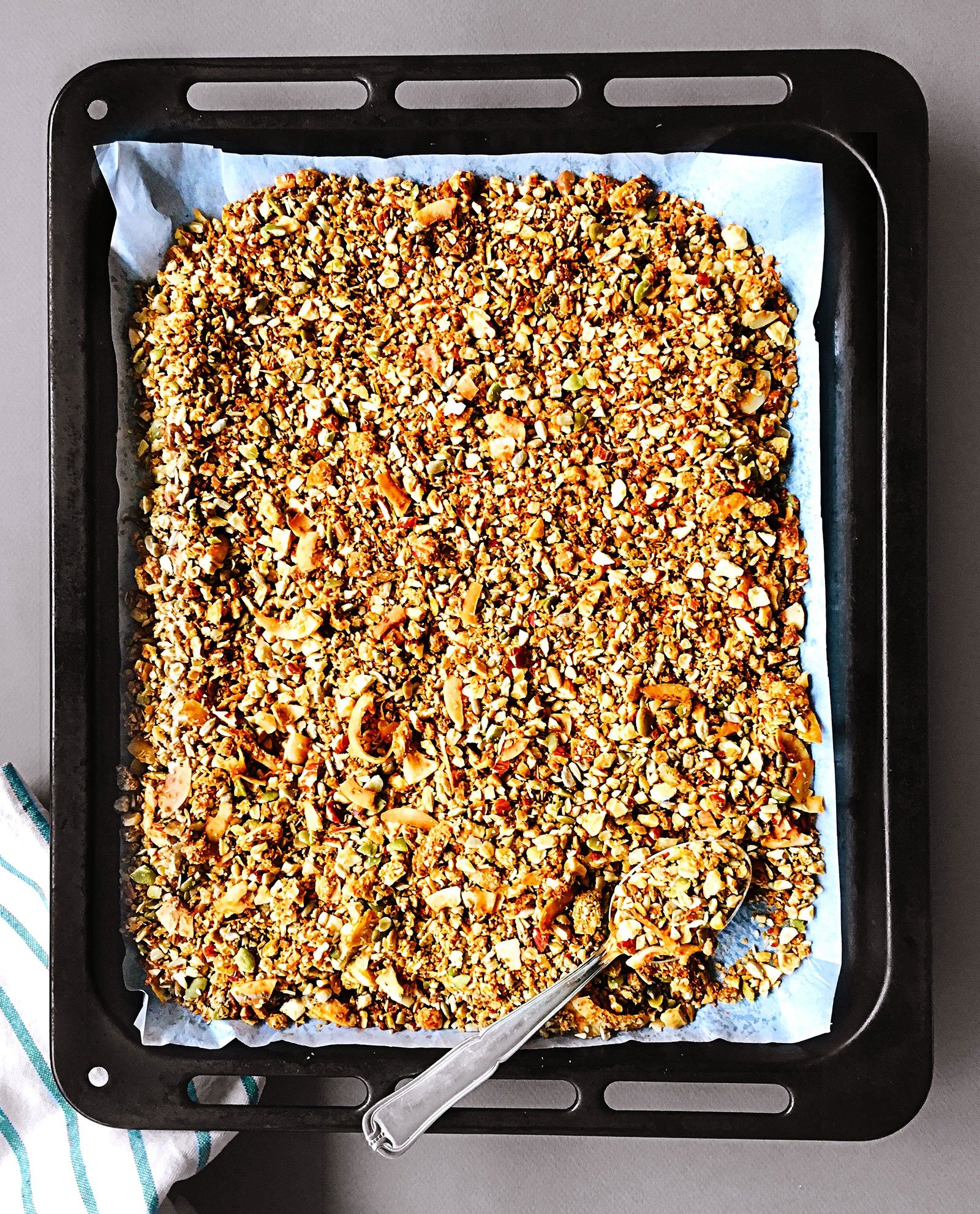 Subtly Spiced, Super Crunchy, Orange, Tahini And Cashew Granola
Crunchy, nourishing, refined sugar-free, lightly spiced, AMAZING orange, tahini and cashew granola. So easy to make and so full of flavor. It is also vegan and GF. Plus, you can store it in an airtight container for up to a month and add it to smoothie bowls, yogurt, fresh fruit, ice-cream or your favorite plant-based milk.
Ingredients
1

cup

cashews

½

cup

almonds

½

cup

sunflower seeds

½

cup

pumpkin seeds

½

cup

rolled oats,

GF if necessary

½

cup

coconut flakes

⅔

cup

shredded coconut

2

Tbsp

sesame seeds

3

Tbsp

runny tahini

3

Tbsp

coconut nectar*

3

Tbsp

coconut oil

½

tsp

pure vanilla extract

½

tsp

ground cardamom

¼

tsp

ground ginger

Pinch

Himalayan salt

Zest

of 1 orange

⅓

cup

dried apricots,

small chopped (optional, but delicious)
Instructions
Preheat the oven at 350 °F / 180 °C.

Add cashews, almonds, sunflower seeds and pumpkin seeds to a food processor. Pulse for a few seconds, until you have all similar, smallish sized pieces.

In a big bowl mix the oats, coconut flakes, shredded coconut and sesame seeds.

Add the nut-seed mixture to the oat-coconut-sesame mixture and stir to combine.

In a small pan, over medium heat, combine the tahini, coconut nectar, coconut oil, vanilla extract, cardamom, ginger, salt and orange zest. Bring to a boil, while gently whisking, and remove from the heat.

Pour the tahini mixture over the dry ingredients. Use a wooden spoon to stir everything really well, until no dry spots remain.

Place the granola on a baking sheet.

Bake for 15 minutes. Stir the mixture. And bake for another 10 – 15 minutes. The cooking time depends on the oven, it burns quickly so be careful and keep an eye on it. It should be golden and smell like heaven.

Grab a big spoon and enjoy! It's guilt-free.
Notes
*I use coconut nectar for two reasons. One, we don´t have maple syrup down here. A real shame, I know! Two, besides being absolutely delicious, it has a low glycemic index. But feel free to use maple syrup instead.
** The tahini-orange flavor combo was inspired by Emma Galloway's Tahini, Orange + Coconut Toasted Muesli from her book My Darling Lemon Thyme.