There are a lot of vegan parmesan (or rawmesan) recipes out there, this is the one I like to make. The texture is spot on and it tastes just as good as the real thing. It's flavorful, easy to make, and it requires just three basic (at least for every vegan) ingredients and a high-speed blender or food processor. It's also incredibly healthy and can be stored in an airtight container for up to 4 weeks. But if you are anything like me, it won't last you that long.
You can use a food processor for this recipe, but I recommend using a high-speed blender to get the actual parmesan texture and feel.
Sprinkle this parmesan on pasta, salads, risottos, pizzas; well, pretty much everything. SO YUM! It will definitely add a lot of flavor and nutritional value to your plate. Really versatile, too. I think there are no downsides to this cheesy delight. What about you? What do you think?
Let us know if you try it. Tag us on Instagram @mondaydreamsblog or leave a comment below. We love hearing from you!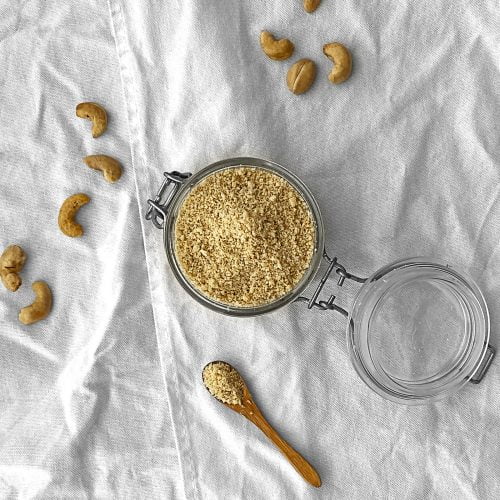 Simple Vegan Parmesan
Three ingredients. Less than two minutes. Healthy, super tasty and versatile.
Ingredients
1

cup

cashews*

3

Tbsp

nutritional yeast

1

tsp

sea salt
Instructions
Place all the ingredients in a high-speed blender (or food processor) and blend for a few seconds, until a fine (floury) meal forms. Be careful not to overdo it, it will become sticky if you do.

Store in an airtight container for up to a month and sprinkle on salads, pasta, roasted veggies, stir-fry's, etc.
Notes
* Cashews are the key ingredient here (and so good for you!), you could try swapping them for other nuts or seeds, it will still be delicious, but the texture and flavor will change. If you don't have cashews, I would recommend trying this recipe with slivered almonds or macadamia.
** This recipe is an adaptation/combination of many vegan parmesan recipes from other food bloggers.
[/vc_column_text][/vc_column][/vc_row]