This is my new favorite thing to spread on top of a nice slice of bread. If you like Mediterranean flavors, you are definitely in the right place. Keep reading, you won't be disappointed.
I don't know about you, but anything with the word toast or sandwich sounds pretty good to me; add a mix of Mediterranean foods and you've got my full undivided attention. Does it get any better than a freshly baked slice of bread with chickpeas, olives, tomatoes and cucumbers on top?!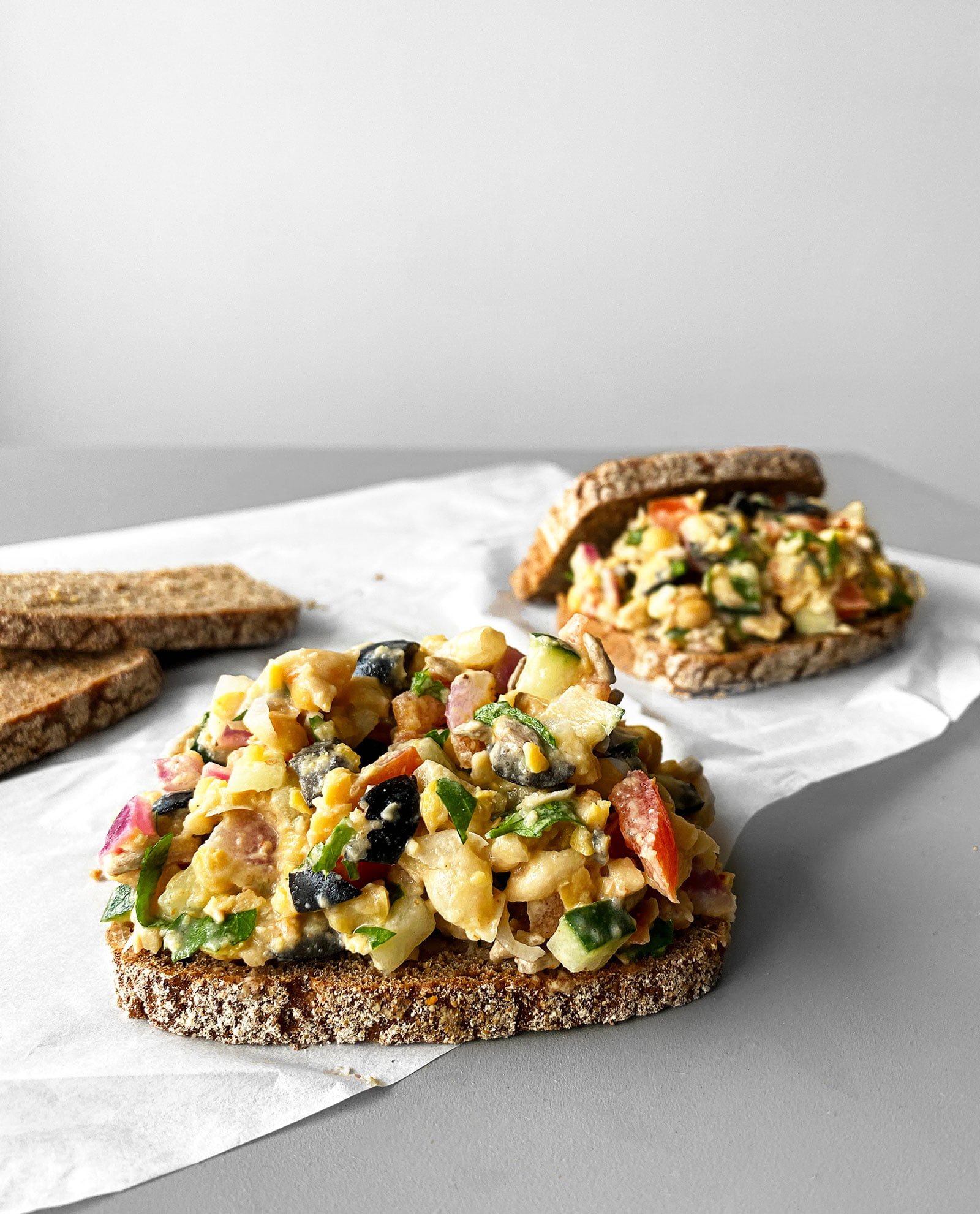 Such a delicious, satisfying, fresh and nourishing meal. It's also protein and fiber-rich. And it can be your breakfast, lunch or dinner. So yes, there are no downsides to this heavenly recipe. Did I say this salad is also great for meal prepping?! Go ahead, make extra and take it to work the next day.
This gorgeous chickpea mash salad takes less than 15 minutes to make and packs so much goodness. Nobody will ever guess it's a healthy, plant-based meal.
If you make this super tasty sandwich, let us know what you think. Tag us on Instagram @mondaydreamsblog or leave a comment below, we love hearing from you!
Mediterranean Inspired Mashed Chickpea Salad Sandwich
This mashed chickpea salad sandwich takes less than 15 minutes to make and is filled with classic Mediterranean flavors. It's creamy, rich, and so incredibly tasty. Perfect when tucked between two slices of yummy sourdough bread. Not a fan of sandwiches? No worries, it's delicious with a side of greens.
Ingredients
1 ½

cup

cooked chickpeas

– or a 15 oz can, drained and rinsed

½

cup

finely chopped red onion*

½

cup

finely chopped black olives

½

cup

finely chopped cucumber

⅓

cup

parsley,

finely chopped**

1

medium tomato,

finely chopped

2

Tbsp

tahini***

2

Tbsp

lemon juice

1

Tbsp

of olive oil

optional****

1

tsp

coconut nectar

– or maple syrup, not Mediterranean, but it adds a touch of sweetness

¼

tsp

of sea salt

¼

tsp

of garlic powder

¼

tsp

of chili flakes

Pepper to taste

2

Tbsp

of sunflower seeds,

optional – not Mediterranean, but I love the taste and crunch
TO SERVE:
4

medium slices of rye, whole-wheat sourdough or GF bread (I'm a rye fan!)
Instructions
Mash the chickpeas with the back of a fork, you can leave a few whole chickpeas for texture.

Add the rest of the ingredients and stir well to combine.

Make a sandwich and enjoy this yummy and healthy meal!
Notes
* I don't like the strong taste of raw onions, so I put the chopped onions in a small bowl and add boiling water. After ten minutes, I drain and rinse the onions with cold water. Bye-bye pungent taste, hello delicious mild flavor.
** Can sub dill, basil or mint. Or a mix of these.
*** Can sub vegan yogurt. I prefer tahini, though.
**** Omit if you are on an oil-free diet.