We are addicted to Italian food in this house. Well, not Alfie, although he does love parmesan!
If you are a pasta lover, like us, you'll love this creamy, dreamy pasta. It has tons of flavor and is SO WARM AND FILLING! It's one of our favorite weeknight dinners, and it's a hit with our family and friends. Nobody can really tell it's a healthy plant-based meal. The combination of roasted bell peppers and cashews tastes like a fancy gourmet meal. But don't let all that deliciousness fool you, this recipe is easy to make and only uses a few basic ingredients.
Plus, it's perfect for a freezer fanatic like me. Make extra sauce and reserve some for a busy day.
Feel free to choose whatever kind of pasta you like. I'm obsessed with whole-grain farro pasta right now! So delicious I can't even begin to describe it, I like it better than regular pasta (and it's a lot healthier too). Farro is an ancient grain, similar to spelt, but not quite the same. If you want to know some of its amazing benefits, check out this link.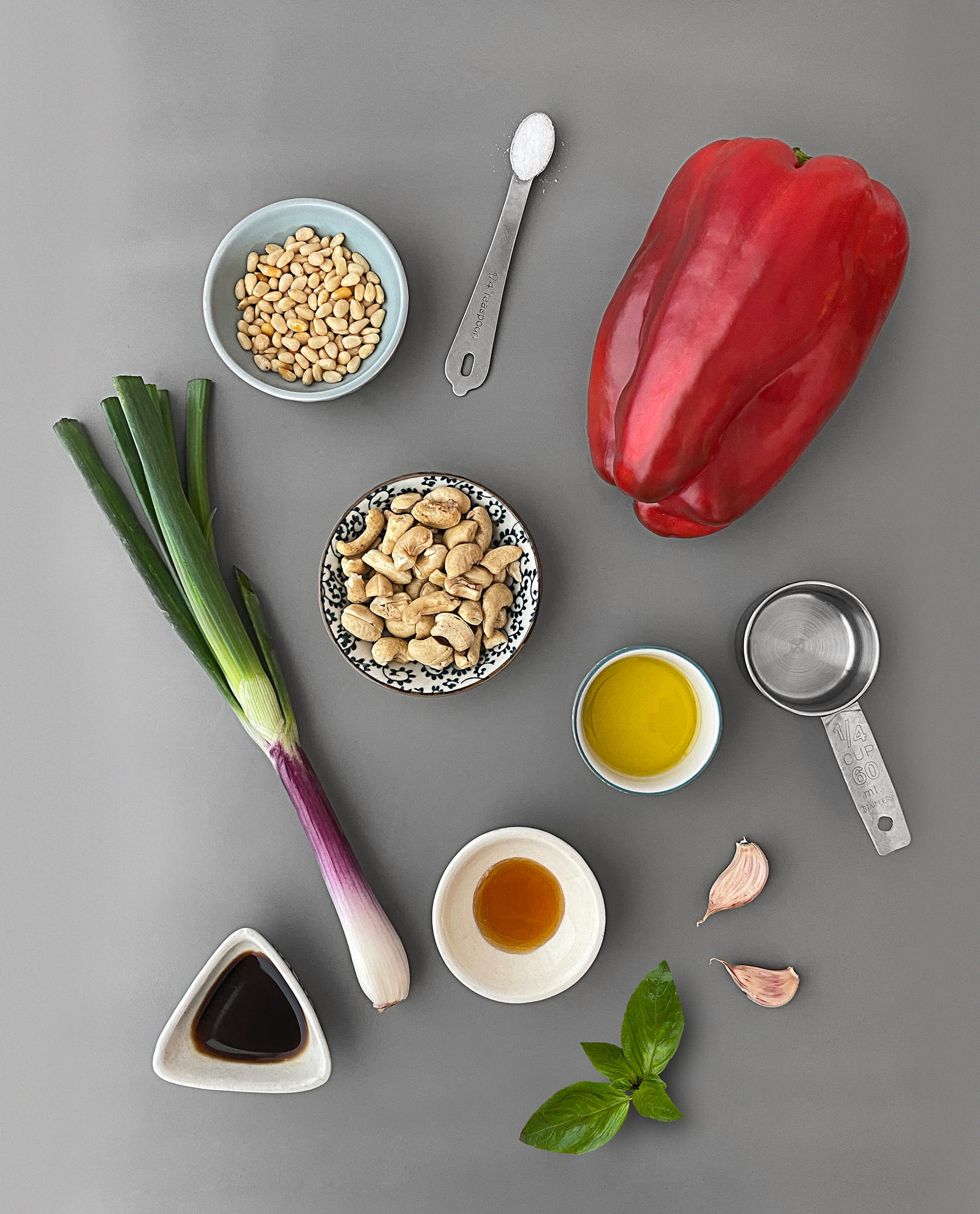 Want to make it gluten-free? Use your GF brand of choice. I really like chickpea or brown rice pasta. Though I think farro, spelt or whole wheat work better in this case (but that's just my opinion).
If you try it, let us know what you think. Tag us on Instagram @mondaydreamsblog or leave a comment below, we love hearing from you!
Creamy Roasted Red Pepper Pasta
This is a great crowd-pleasing pasta recipe. It's easy, quick and bursting with flavor! So creamy it tastes a little bit decadent, but It's actually quite healthy and light. It is also vegan and can be easily made gluten-free.
Ingredients
PASTA:
4

servings of whole-grain or GF penne pasta -

12 ounces – 340 grams*

1

Tbsp

olive oil

4

green onions,

chopped

2

handfuls of fresh basil leaves,

chopped

3

Tbsp

toasted pine nuts -

you can use chopped toasted cashews instead
ROASTED RED PEPPER SAUCE
⅓

cup

cashews -

soaked for at least 2 hours, preferably overnight**

1

large red bell pepper

2

cloves

of garlic,

unpeeled

¼ - ⅓

cup

water -

I used ¼ cup, but you can use a ⅓ if you prefer a thinner consistency

1

Tbsp

olive oil

(plus a little extra for brushing the peppers)

1

tsp

coconut nectar***

1

tsp

coconut aminos****

¼

tsp

sea salt
Instructions
SAUCE:
Preheat the oven to 350 °F / 180 °C.

Cut the red bell pepper in half, remove the stem and seeds and brush the skin with a little bit of olive oil.

Place the bell pepper and garlic cloves (unpeeled) on a baking sheet. Cook in the oven for 10 minutes, then remove the garlic cloves (they should be quite soft). Let the bell pepper roast for another 20 – 25 minutes, until the skin is kind of bubbly and burned in a few spots.

Take the bell pepper out of the oven, place it in a bowl and put a big plate on top (you could also use plastic wrap, but there´s something about the plastic-heat combo that I don't like). This will steam the bell pepper and make it easier to peel. Let it cool down like that. Once cold, remove and discard the skin.

Drain and rinse the cashews.

Peel the garlic cloves and throw them in the blender with the bell pepper flesh and the rest of the ingredients (cashews, water, olive oil, coconut nectar, coconut aminos and salt). Blend on high speed until smooth and creamy. Taste and adjust seasoning.
PASTA:
Cook the pasta according to instructions. Reserve 1 cup of pasta water before draining it. This is a nice little trick; the starchy water will add a beautiful silkiness to the sauce.

In a large pan, heat the olive oil over medium heat. Add the green onions and sauté for 3 minutes.

Add the sauce and heat it for 2 - 3 minutes, until warm.

Add the cooked pasta and stir for another minute. The sauce will get a bit thick, add some of that reserved cooking pasta water, 1 Tbsp at a time, until smooth and silky (you won't need the whole cup, just a little bit).

Serve immediately and top with toasted pine nuts and fresh basil leaves.
Notes
*I'm a farro pasta fan! Never heard of it? Give farro penne a try. Spelt pasta is also really good and quite similar in taste.
**Soaking nuts overnight makes them a whole lot healthier (you can read more about it here). But if you are hungry and want to make this tasty treat right now, soak the cashews in boiling water for 20 - 30 minutes. This will soften them quickly.
***I use coconut nectar for two reasons. One, we don´t have maple syrup down here. A real shame, I know! Two, besides being absolutely delicious, it has a low glycemic index. But feel free to use maple syrup instead.
****New to coconut aminos? Go get some right now, you won't regret it. It makes everything taste better. Use it in dressings, sauces, dips, stir fries, soups, and more.